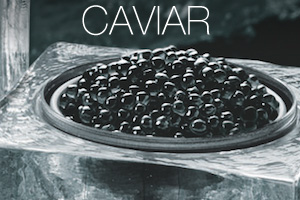 FINE FOOD FACTORY is proud present you the first Swiss Alpine Caviar produced in the beautiful settings of the Swiss Alps. The Tropenhaus (Tropic House) Frutigen is opening a new chapter in the history of this delicacy: caviar from Siberian sturgeons that grow in the pure, naturally warm mountain water in Frutigen. Using the 20 degrees Celsius (68 degrees Fahrenheit) runoff water from the Loetschberg Basis tunnel allows the Tropenhaus in Frutigen, south of the Swiss capital Bern, to harvest roe from female fish when they are just six years old.

The pure mountain water caviar and the delicate sturgeon meat represent a fascinating pleasure. All the products cultivated and harvested in the Tropenhaus Frutigen meet the highest quality requirements. The best ingredients, coupled with the finest craftsmanship, lead to a pure taste experience. The interplay of the colors of the water, the mountains, plants and glass create a unique ambience and are reflected in the pearls of the caviar. Pleasure becomes a passion. But also in terms of sustainability the Tropenhaus sets new standards and is a true role model. The exemplary ecosystem takes renewable energy into account, and ensures our ecological and economic responsibility.

The knowledge transfer is developed and passed on together with selected partners, while innovations are being continually implemented that take our commitment to sustainability into account. They accept responsibility for the environment and comply with ethical principles. The animal husbandry itself takes place under strict and species-appropriate conditions.

Products
Weight / Size

ALPINE SWISS FARMED CAVIAR (Acipenser baeri)

No. 101
1/ 1.75/ 3.5/ 7/ 8.8/ 17.6 oz.
No. 102
No. 103

FINLAND  FARMED CAVIAR (Acipenser baeri)

Finland farmed Caviar
1/ 1.75/ 3.5/ 7/ 8.8/ 17.6 oz.