The FINE FOOD FACTORY smoked salmon products are exclusively produced by CT OCEANE SA, a Geneva based high end smoked salmon producer, beautifully placed next to the Swiss Alps scenery, who supplies leading retailers and restaurants. Everything starts with the selection of the best Scottish and Norwegian farmed salmon producers. Having established long term cooperation with a few of them the fresh fish is harvested and filleted the same day. Rapidly transported to the Swiss smoking house, the product is carefully manufactured, following the traditional cold smoking process already used by our ancestors.

Be Different!
At FINE FOOD FACTORY we believe in innovation. That's why we have been developing in cooperation with CT OCEANE a whole range a truly different smoked salmon recipes such as:
– Organic Scottish salmon sliced
– Smoked salmon fillet "Sushi style"
– Smoked salmon with Swiss alpine herbs
– The golden one! Smoked salmon fillet with edible gold flakes
The Art of Smoking!
At the CT OCEANE smokery facility each salmon fillet is carefully selected and smoked in the centuries old traditional way. Nothing else than Swiss alpine salt and beech wood smoked is used. Needless to say that only fresh salmons (never frozen) are used to produce this top notch smoked salmon. Carefully trimmed and salted by hand, a time intensive production cycle of several hours is used to dry and smoke the salmon.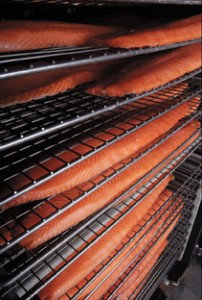 Products
Weight
Packaging


Fresh Norwegian salmon fillets(Global Gap certified)

Salmon fillet skin-on, vacuum-packed
3 –  4 lb
TBD
Salmon fillet skinless, vacuum-packed, Trim C,D and E
4 lb – 5 lb
TBD
Salmon loins
0.9 – 1,3 lb
TBD
Products
Weight
Packaging

THE BASICS

Smoked salmon sliced, hand trimmed, no brown meat
4 oz
10 units / box
Smoked salmon sliced, hand trimmed, no brown meat
8 oz
10 units / box
Smoked salmon sliced with Swiss Alpine herbs, hand trimmed, no brown meat
4 oz
10 units / box
Smoked salmon sliced with Swiss Alpine herbs, hand trimmed, no brown meat
4 oz
10 units / box
Smoked organic Scottish salmon sliced
4 oz
10 units / box

THE SPECIALS

Smoked salmon  royal fillet precut, Sushi Style, wrapped in Nori Seaweed
7 oz
10 units / box
Smoked salmon  royal fillet with Swiss Alpine Herbs
7 oz
10 units / box
Smoked salmon  royal fillet with genuine gold flakes
7 oz
10 units / box
THE OPTIONS

Make your choice!
APPLICABLE
Scottish origin
yes
Graved Lax  Style (dill and lemon zest)
yes
Hand sliced
 yes
Products
Weight
Packaging
THE BASICS
Smoked salmon side, skinless
2 – 3 lb
5 pcs / box
Smoked salmon side, sliced
2 – 3 lb
5 pcs / box
Smoked salmon  party platter
1 lb
10 pcs / box
Smoked salmon  royal filet
~ 1 lb
5 pcs / box
THE SPECIALS
Smoked salmon  royal fillet precut, Sushi Style, wrapped in Nori Seaweed
~ 1 lb
5 pcs / box
Smoked salmon  royal fillet with Swiss Alpine Herbs
~ 1 lb
5 pcs / box
Smoked salmon  royal fillet with genuine gold flakes
~ 1 lb
5 pcs / box
THE OPTIONS
Make your choice!
APPLICABLE
Scottish origin
Graved Lax  Style (dill and lemon zest)
Hand sliced